Glenealy (Irish: Gleann Fhaídhle) is a village 5 miles west of Wicklow Town. It is a club steeped in history, heritage and hurling. The Club grounds are nestled at the foot of Carraig Mountain, adjacent to the village.
We are solely a hurling (and camogie) club. New members are always welcome and we extend the hand of friendship to all. Glenealy is a very progressive, family orientated club. We cater for boys and girls from age 3 to adult. The Juvenile section looks after the boys from the Under 6 to Under 17 age group.
The Senior section fields 2 teams , Intermediate and Senior. The Camogie section looks after all our ladies from Under 6 to Senior level. Glenealy is a club that has played a pivitol part in the promotion and development of hurling in Wicklow over the last number of years.
We have provided and continue to provide senior and juvenile players on numerous county teams.
This is probably one of the most exciting times in the history of Glenealy GAA. We have purchased 20.94 acres at Ballyfree, opposite the school.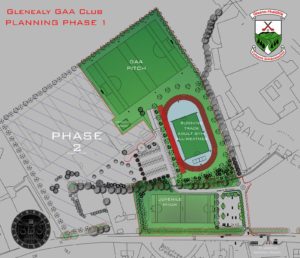 The idea to purchase these grounds and develop them stemmed from the realisation that even though our current GAA facilities have served us well, they are insufficient for our long term needs.
The initial club development Committee was formed comprising of Paddy Staunton, Joe Linnane, Nigel Manley and Noel Geraghty, they were joined by Séamus O'Neill and Paul O'Neill.
They looked at all options over a span of 3 years three years and being in a position to announce the purchase of the lands in 2013 was just the start of the dream. There were many hurdles on the way to getting planning permission – some which tested the patience and endurance of the community – but in true Glenealy fashion, the perseverance paid off and in June 2020, we finally turned the sod at the new development.
We have secured the grounds and we will have the playing facilities for Glenealy that we will be proud to call our own. Our fundraising plans involve a mix of 'one-off' projects and events that can be run on an annual basis. We will always strive to come up with fresh and innovative ideas that capture the imagination and the limited purse strings of the public.
We are currently looking at projects that will get the support of a wider audience and are very mindful of the fact that we cannot continually look to the same pockets for support.
Ballyfree Link To Our Past – Bridge To Our Future
We were delighted in June 2020 to finally commence work on our new grounds.  It has been a long struggle – but we never gave in and we used the stumbling blocks as stepping stones. Every setback made us more determined to achieve our goal to have a state of the art facilities for the whole of the community in Glenealy.